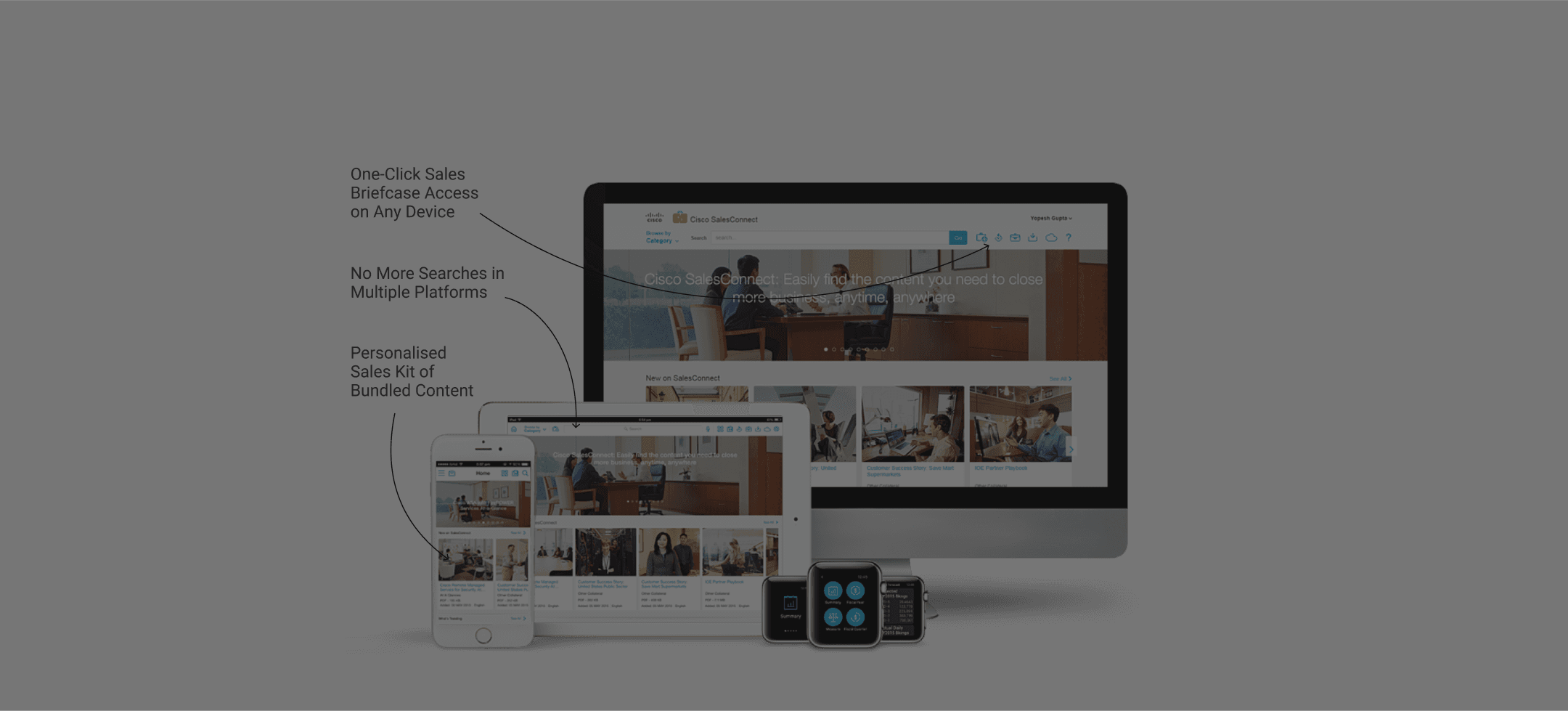 CONNECTING CONTENT TO SALES
Sell more. Sell faster. Win Customers.
Successful Business Outcomes
97,800

Individual Users

48,100

Partner Users

90%+

of Sales now uses SalesConnect

80%

Users recommend SalesConnect

We needed to come up with a way to quickly find the right content from a vast library of collaterals and package it into a persuasive sales kit that Cisco sellers could share with customers while on the go...
So what was affecting the company's productivity?
Cisco has a large product line, and their sales teams had to search for content such as data sheets, technical white papers, and marketing brochures in multiple systems. This situation made finding relevant, up-to-date content very difficult for the team, leading them to spend 15-25% of their time searching for material instead of conducting value-added sales activities. In total, unproductive sales time cost Cisco and its partners millions of dollars per year.
Creating a winning sales pitch was a daunting task for Brett, a Cisco Seller
Content spread across different business systems
Sales reps are on the frontlines, trying to sell an enterprise's products and services to new and existing customers. They need a lot of content to win a customer, such as marketing information, product datasheets, and technical white papers, and so on.
Lack of info about new products and services
Salespeople do not have ready access to info about new products and services faster than competitors.
Searching for the right information to support valuable customer conversations
Brett struggled to find accurate, up-to-date information on product roadmaps, feature comparisons, and competitive data. Content was spread across more than 20 different locations, resulting in content chaos. Imagine trying to find all this information when it's spread across business systems? Traditional search can't help.
"We wanted an app to immediately provide sales teams with the best information to aid them during all stages of the sales process through a highly contextual experience."

SalesConnect Users

Cisco
So how the company can drive top line revenue growth?
User research revealed sellers looking for five pieces of sales and marketing content were spending 17 minutes performing searches and sometimes giving up before even finding one document. The challenge lay in how to make things more relevant to the seller going forward with content. And also, the content cleanup is a very heavy lifting part; going behind this so that the things are categorized, tagged relevantly and tuned by the role seemed a daunting task.
The idea was to organize and display content specific to user role as well as display that kind of information that would help user gauge sales trends, get an insight into popular trends, as well as display content based on user activities.
It became clear sales people needed personalized content kits based on their role as either a Cisco employee or partner, their sales package, the potential customer they are meeting, and their phase in the sales cycle.
So how the company can benefit from a context-aware content management system?
After gaining a deep understanding of how Cisco's sellers and partners worked, a context-aware content management system emerged as a solution. In addition to anticipating sellers' needs, we knew the CMS needed to generate fast search results and create confidence that all delivered content reflected the most up-to-date information.
Creating a culture of research, early prototyping and iteration
The app is created with the intent to immediately provide sellers like Brett with the best information to aid them during all stages of the sales process through a highly contextual experience. SalesConnect provides some key features to reduce search time and effort:
It integrates CRM feeds that can help surface relevant content by incorporating information about customers, product portfolios, territories, and behaviors.

It enables Cisco to highlight content related to products or key messages to increase sales of specific products

It allows reps to bundle content to create global sales kits
Performing his sales task is no longer time taking for Brett. He has all the information to quickly prioritize his work, plan ahead, set targets and strategize on reaching quotas.
This leaves him with a lot of time to be more proactive with his end customers and WIN MORE BUSINESS!
Contextual Search: Empowers sellers to retrieve all relevant information on a topic at a single spot. They could trust their searches were comprehensive and delivering the most relevant and up-to-date information.
Featured Content: Provides sellers with content related to key products and messages that Cisco would like to highlight
Personalized Content: Pulls in CRM feeds to recommend relevant content to sales teams based on customers, product portfolio, territory, etc.
Dynamic Content: Bundles (automatically or manually) all relevant to Cisco sales information related to a particularly compelling topic (i.e., cloud computing) to create global sale.
What if your solution worked for you even when you weren't actively looking?
SalesConnect is Cisco's new centralized sales content and training platform, and since its launch, SalesConnect has grown to be Cisco's fastest adopted platform in sales.
With ability in place for proactively analyzing customer information and surfacing content that is relevant to their particular situation, SalesConnect has become a single source of truth for sales enablement content across departments, source systems, and product lines, and has driven significant sales productivity gains. Both internal and partner sales teams work smarter and more proactively with access to personalized information through a simplified, intuitive experience.
Sellers, newly empowered to deliver a persuasive sales experience at every stage of the sales cycle, quickly adopted SalesConnect. Within four months of launching, the app had 14,000 users, making it the fastest adopted enablement application in Cisco history.
"SalesConnect helps us mobilize our sales team and our partners to focus on selling new products very quickly. They can find what they need, spend more time with our customers, and help build comprehensive solutions our customers are looking for from us." 

SalesConnect Users

Cisco