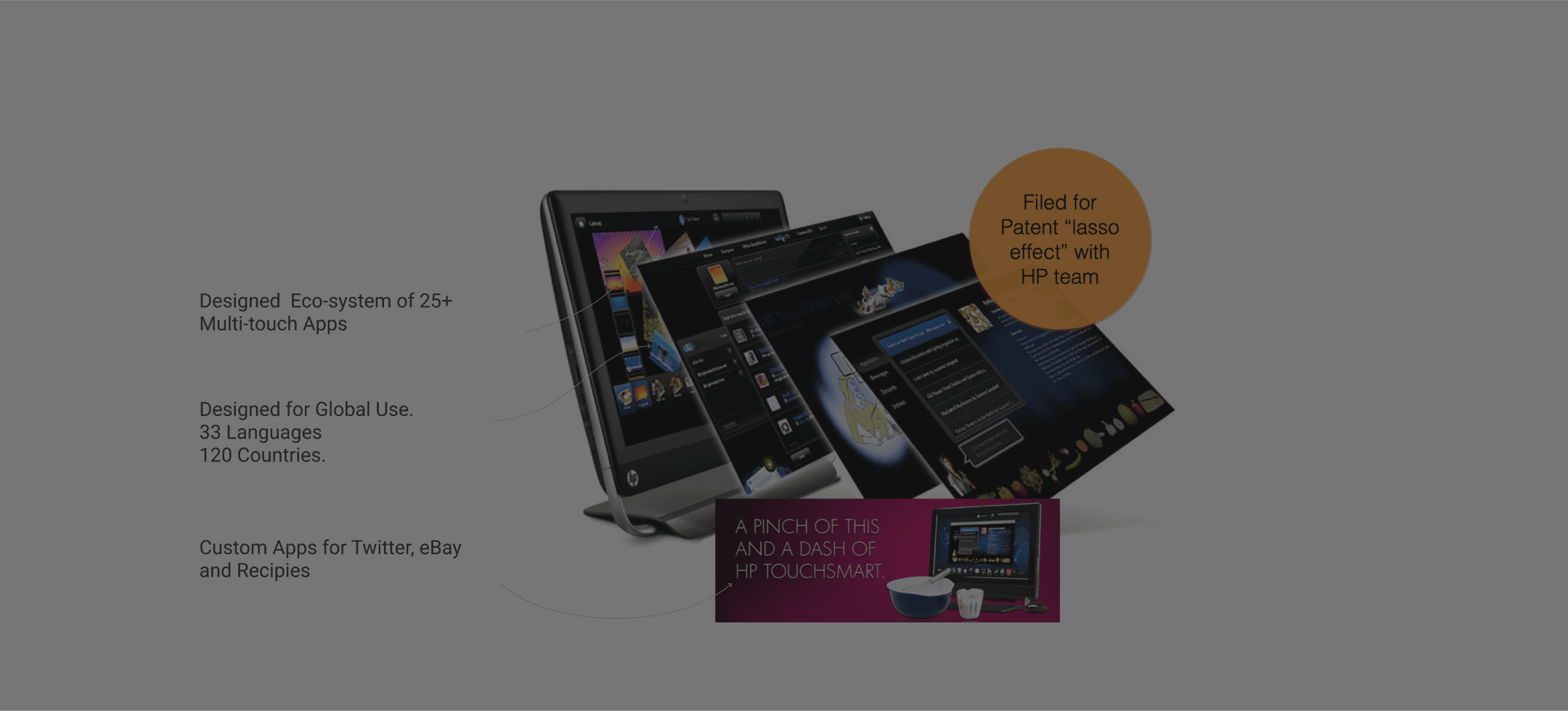 TOUCHING PEOPLE'S LIVES
Technology at your fingertips...literally
Successful Business Outcomes
| | | |
| --- | --- | --- |
| 25+ Multi Touch Apps | Localized for 33 Languages across 120 countries | Custom Apps for Twitter, eBay and 1001 recipes |

HP and Microsoft were launching the pioneering TouchSmart line of touchscreen PCs, a new way for users to interact with technology. To delight their users, they would need a full suite of intuitive and UI-consistent built-in apps to support the launch of this new "lifestyle" experience.
"The TouchSmart ecosystem needed intuitive apps that made it easy for users to learn and embrace the new, interactive power of touch technology."

Product Team

HP
Using the power of touch technology to transform how people interact with their computers
From discussions with HP's stakeholders, we knew the designs for the apps would need to adhere to strict requirements. HP wanted to deliver a pervasive experience across all its TouchSmart applications, so the user interface and corresponding elements for each app would need to align with established visual style guidelines.
Additionally, HP had plans to ship the TouchSmart PCs and technology to markets around the globe, so we were looking at user personas from geographical areas covering more than 30 different languages. We knew every design decision-from UI elements to tactile interactions-needed to account for cross-cultural differences.
Designing a lifestyle experience
Given that touch technology was in nascent stages, very little existing user research was available to inform our interaction design decisions. Frequent scrums and checkpoints of user testing were performed during this stage to ensure that interactions we designed were intuitive and easy to learn. With the design strategy for the applications set, we made sure each element and interaction was compatible with languages used with Microsoft's operating system (OS)-WPF, .NET, and XAML.
How Business and Innovation Goals Impacted Innovation Decisions
In the absence of clear guidance, there was a need to extract the goals from the minds of executives and line-of-business leaders. To improve innovation performance and impact, we needed to set distinct business and innovation goals.
Develop new business models, or major new product or service offerings
Identify and explore new approaches and opportunities. Incubate internal teams to run with specific ideas. Create a new product development team.
Improve customer-facing innovation specifically, including customer experience
Train designers and other employees in design thinking.
Surface bold new ideas
Run moderated workshops or design sprints with creative-thinking triggers (for example, a stretch goal).
Create an ongoing stream of innovation
Define an innovation process that emphasizes end-to-end completion and track process strengths and challenges over time.
 
Meticulous stakeholder communication combined with careful technology integration planning guided the project from conceptualization to launch. Intelligaia rose to the challenge by reconfiguring business operations, adopting a strong innovation process, and forming agile product teams.
Learning by Doing
The challenges got transformed into a learning experience for the team. Daily scrums were held to ensure no lapse in communication. Project Management Tools like Basecamp were used for defining tasks and milestones. Special sync up meetings were held with remote desktop sharing.
Importantly, training sessions among team members were held to upgrade to a new technology.
Touch, Feel and Go
The success of a unique interface depends not only on the underlying technology but for the majority of users, it's "what they can do with the technology". Intelligaia built some significant applications unique to the TouchSmart. The TouchSmart line of PCs and its applications lived up to HP's decades-long reputation as a technology pioneer, thanks in part to great design.
Notes
Notes, as the name suggests is an application to create text and voice notes by using touch, mouse, keyboard, video, or by recording a voice note. Users can also create to-do lists, and print their notes and lists.
Calendar
HP TouchSmart Calendar has ability to create events (single day, multi day, with recurrence – daily, weekly, monthly, yearly etc.) which can further be synchronized with Google Calendar, Windows Calendar and ics file (which users can create on their own).
Link
HP TouchSmart Link is a HP SmartCenter hosted application that facilitates transfer of images between HPTouchSmart machine and compatible mobile-phones using 'Bluetooth'. The application uses services of underlying Microsoft Bluetooth API and supports almost all mobile-phones which have support for 'Obexrotocol'.
Music Search
Music Search is a search tool that helps in searching media in TouchSmart Music application. This is a pluggable control that can be used for any application to carry out search in that application. This has been made generic so that it can be integrated with any application.
Twitter
The HP TouchSmart Twitter is a social network application where user can post a tweet to their friends, reply their tweets, send a direct message, visit the other user's profile and follow them. This application uses Twitter API to interact with Twitter database.
eBay
eBay is a buying and selling app for products under different categories. This application uses eBay API to interact with eBay database.
What does success look like?
After the built-in apps shipped to PC customers, we continued to work closely with HP. As the TouchSmart platform and the Microsoft OS evolved, our team ensured that the quality of the touch apps remained consistently high and we continued to improve the design with feedback from ongoing user testing.
Stunning launch, high adoption along with our work being filed for patent "lasso effect" with HP team reflected our commitment to innovation. We delivered, supported, updated, and continued post-launch development on over 25 built-in, integrated touch apps.
"Intelligaia has provided touch driven applications for TouchSmart environment right from its conceptualization. They have given quality products with complete user satisfaction that are being shipped as built-in applications of TouchSmart systems."
 

Product Team

HP