1. Workshop Objectives 
Our Service Blueprint Design Workshop will help you bring out the best in your customer service.. This hands-on workshop will equip you with the tools and insights needed to optimize your service delivery and exceed customer expectations.
Our team of experienced facilitators will help you through a process of transformation that will assist you in driving both business success and customer satisfaction. This will be accomplished by mapping out the entire customer journey, identifying touchpoints, pain points, and opportunities for improvement, and then guiding you through these steps.
 Unlock the full potential of your customer experience with our Service Blueprint Design Exercise
Whether you're looking to revamp your service strategy or launch a new offering, the Service Blueprint Design Exercise is your essential first step.
---
2. Benefits of the workshop
Increased customer satisfaction: The Service Blueprint Design Workshop helps find ways to improve by understanding the whole customer experience. This makes customers happier.
Better coordination between teams: The Service Blueprint Design exercise helps get different teams in an organisation to work together and make sure everyone knows how different pieces of the product interact with each other and whats their role is in the customer experience. This can lead to better communication and alignment on design goals.
Better understanding of customer touchpoints: A service blueprint gives a full picture of all the interactions a customer has with a product or service. This makes it easier for the team to understand the customer journey and find places to improve.
Better Problem Solving: Service blueprints show the customer experience in a clear and visual way. This makes it easier to find and fix problems that may come up during the process of delivering the service.
Better Service Delivery: The team can improve the service and give customers a better experience if they map out the service delivery process and look for ways to make it better.
Increased Empathy for Customers: The team can gain a deeper understanding of the customers' needs and motivations through the use of customer journey mapping, which in turn fosters more empathy and a design process that is more customer-centric.
---
3. Business scenarios for the workshop
Improving Customer Experience: Through customer insight, service blueprinting can be used to gain a better understanding of the customer experience and perception of a company's services
Identifying Pain Points in Service Operations: This can help to identify pain points and problem areas in the service delivery process, enabling a company to more effectively align their services with customers' expectations and needs
Creating Consistent Service Offerings:  Creating Consistent Service across different channels : Service blueprints help product design teams create consistent service offerings across different channels, ensuring that customers have a seamless experience no matter how they interact with a company.
Streamlining Service Delivery Processes: The Service Blueprint map can help streamline service delivery processes by providing a comprehensive visual representation of all the touchpoints, activities, and interactions that customers experience when accessing a service. . By aligning all service delivery channels and activities, a Service Blueprint can ensure that customers receive consistent and seamless experiences across all touchpoints. This can result in increased customer satisfaction, reduced operational costs, and improved overall efficiency.
Launching a New Service: Service blueprints can be a valuable tool when launching a new service as they provide a clear and detailed overview of the service delivery process. This includes the interactions between customers, employees, and systems, as well as the touchpoints, pain points, and opportunities for improvement. With a well-designed service blueprint, organizations can ensure that all aspects of the service are aligned and consistent across all channels and touchpoints, making the launch of the new service smoother and more effective. Additionally, the service blueprint can be used to identify potential challenges or bottlenecks in the service delivery process and to implement solutions to improve the overall customer experience.
End-to-End service delivery process Mapping: With an end-to-end service delivery process mapping, organizations can accurately analyze the complete customer journey, identify potential areas of improvement, and focus on delivering a superior customer experience.
Align your organization capabilities and strategy around customer needs: By using the service blueprint, organizations can clearly see which elements of their service delivery process are directly impacting the customer experience and ultimately help them to align their organizational capabilities and strategy around customer needs.
---
4. Who can participate in the workshop 
Service Blue Print  can help organizations shift their mindset from inside-out to outside-in. 
Teams from 
Service designers and managers who are responsible for designing and delivering customer service experiences.
Product design teams who want to create consistent service offerings across different channels.
Business owners and entrepreneurs who are launching a new service.
Service delivery teams who are looking to streamline and improve their processes.
Customer experience professionals who want to understand how service offerings can be optimized to meet customer needs.
---
Service Blueprint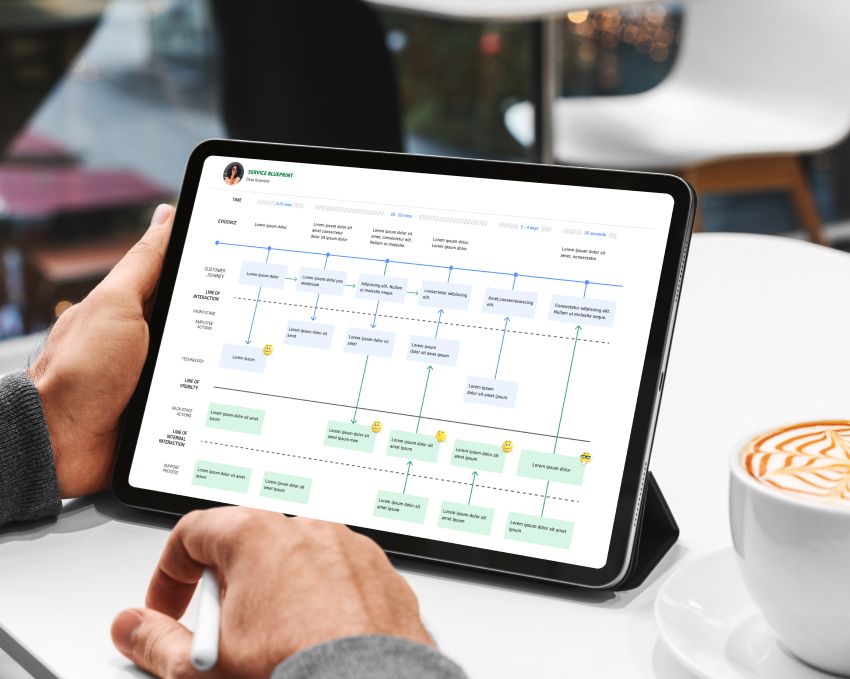 Customer Journey Mapping Can Help You
Align your organization capabilities and strategy around customer needs
When Should We Use Service Blueprints?
During the Empathize and Define:
Define a research plan by segregating what you know and what you need to know.
Recognize opportunities based on current process breakdowns.
Align and prioritize on which service areas to focus. 
During the Ideate and Prototype:
Prototype future changes before spending time and resources to implement something that doesn't work logistically.
Measure potential business impact from process changes.
During the Test and Implement:
Track success and inform the organizational roadmap.
Break down silos and align everyone behind a single source of truth.
Benchmark changes over time against large strategic service goals.
How Does a Service Blueprint Differ from a Customer-Journey Map?
 
The goal of customer-journey maps is to better understand the end users' journey. This journey includes their thoughts and emotions. In contrast, service blueprints reflect the organization's perspective and thus include frontstage actions, backstage actions, and support processes and to document how the organization creates that experience. This comprehensive understanding can be used to:

Discover problems:
Blueprinting exposes the big picture and offers a map of dependencies, thus allowing a business to discover a weak leak at its roots.

Eliminate redundancy:
Blueprints identify opportunities for optimization by providing a map of each actor and action that are part of the service. This visualization often surfaces duplication of work and highlights where internal processes can be streamlined.

Coordinate future changes: Blueprinting communicates vision and strategy for a complex service. The blueprint becomes a single source of truth across departments and disciplines. Make informed, coordinated decisions that align to the ideal state of the service.
Who Should Be Involved in Service Blueprinting?
 

The composition of your blueprinting team should directly map onto the context, scenario, and goal of your blueprinting initiative. For example, the broader the scope of your blueprint, the more cross-departmental involvement will be required. 

Stakeholders or team members from each of the internal departments that cover the aspect of the customer journey should be involved. From each of the departments, include knowledge holders and actors closely familiar with the end user, as well as frontstage and backstage actors. 
 
Workshop Outcomes
Instrumental in complex scenarios spanning many service-related offerings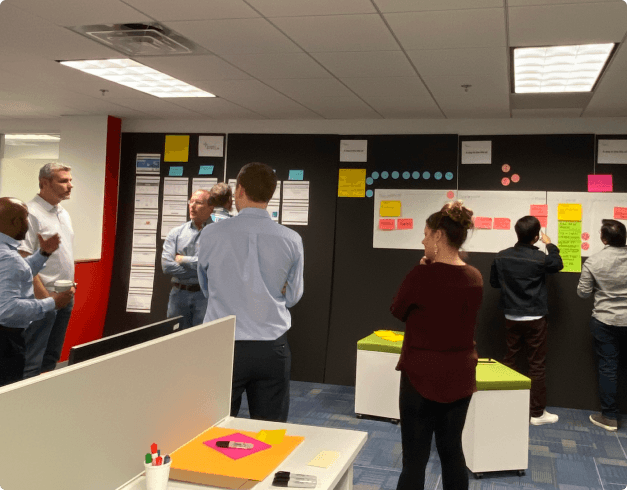 Think of service blueprints as a part two to customer journey maps. Blueprinting is an ideal approach to experiences that are omnichannel, involve multiple touchpoints, or require a cross functional effort
Blueprinting exposes the big picture and offers a map of dependencies, thus allowing a business to discover a weak leak at its roots.
Similarly, Blueprints help identify opportunities for optimisation. The visualisation of relationships in blueprints uncovers potential improvements and ways to eliminate redundancy.
Blueprinting is most useful when coordinating complex services because it bridges cross department efforts. Blueprinting helps businesses capture what occurs internally throughout the totality of the customer journey thus giving them insight to overlaps and dependencies that departments alone could not see.
6. After the workshop
Our team will work offline on the data collected during the workshop and share the following assets.

Service Blueprint Diagram: A visual representation of the service process, including all the touchpoints, activities, and channels involved in delivering the service.
Service Delivery Map: A comprehensive diagram of the entire procedure for providing the service, including all tasks, operations, and interactions involved.
Service Touchpoint Analysis: An investigation into the function, interplay, and effect of all the major service delivery touchpoints.
Service Performance Metrics: A set of metrics and KPIs to measure the performance of the service delivery process, including customer satisfaction, speed, and efficiency.
Service Improvement Recommendations: A set of recommendations for improving the service delivery process, including process optimization, technology integration, and customer experience enhancements.