1. Workshop Objectives 
Customer Journey Mapping is the creation of a visual depiction of a customer's interactions with a firm and its goods or services across time.  The workshop is a hands on session that assists firms in comprehending the customer journey and identifying improvement opportunities. 
This workshop is meant for those who want to obtain a better understanding of consumer behaviour, pain points, and preferences. 
 
Design better products that meet the needs and expectations of their users. 
The upshot of the workshop is a lucid and executable strategy for improving the customer experience.
Customer Journey  Maps to visualize the thoughts, feelings, and emotions of customers at different stages of their journey.

Using the insights gained from Customer Journey mapping to inform product and design decisions.


 
---
2. Benefits of the workshop
Improved customer experience: Better customer service is possible when businesses have more information about their clients' journeys and the means to address any issues that may arise.
Increased customer satisfaction: Companies can boost customer satisfaction and loyalty by listening to and responding to consumer feedback about products and services.
Increased revenue: An enhanced customer experience increases customer loyalty and drives revenue growth.
Better alignment between departments: Customer journey mapping helps teams comprehend the customer's viewpoint and will enhance departmental cooperation.
Better decision-making: Organizations can make more customer-centric choices if they have a thorough grasp of the customer journey.
Improved product development: Customer journey mapping can provide insights into customer needs and preferences, which can inform product development and improvement.
3. Business scenarios for the workshop
Holistic Customer Experience View Create a holistic view of the customer experience with CJM to understand customer needs and pain points at different stages of their journey with a company.
Identify Gaps in Your Customer's Journey: Examine the complete customer experience and identify any gaps, inconsistencies, or opportunities to enhance the customer journey and create a better experience
Customer Experience Optimization: Identify and prioritise customer touchpoints and opportunities for optimization.
Increase Customer Loyalty: Develop a strategy to reduce friction points in the customer journey and increase customer loyalty.
Increasing customer pleasure, loyalty, and revenue are all possible with Customer Journey Mapping activity.
Define a Multi-Channel Strategy: Understand how customers interact with different channels and touchpoints and develop a multi-channel strategy.
User-Centered Design: Understanding the customer journey and their needs, pain points and behaviors to create more effective and engaging products.
Product Strategy: Aligning product strategy with customer needs and expectations to drive growth and customer satisfaction.
---
4. Who can participate in the workshop 
The workshop is useful for
Marketing and sales teams
Customer service teams
Product development teams
Business analysts and strategists
User experience (UX) designers and researchers
 
These teams and individuals are often responsible for understanding and optimizing the customer experience, and the Customer Journey Mapping exercise can help provide valuable insights into this process. 
 
---
Customer Journey Mapping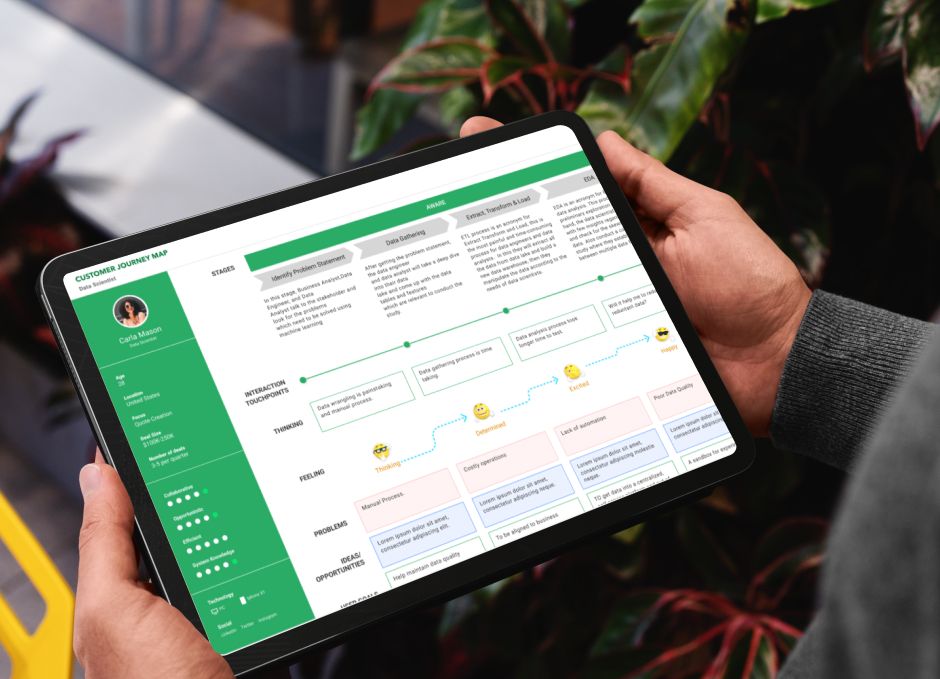 Customer Journey Mapping Can Help You
Visualise the process that a person goes through to accomplish a goal and create a narrative fleshed with user thoughts and emotions.
The Three Zones of aCustomer Journey Map
Will You Use an Assumption-First or Research-First Approach?
 
5 Key Steps to Customer Journey Mapping
Workshop Outcomes
Create a holistic view of customer experience with CJM framework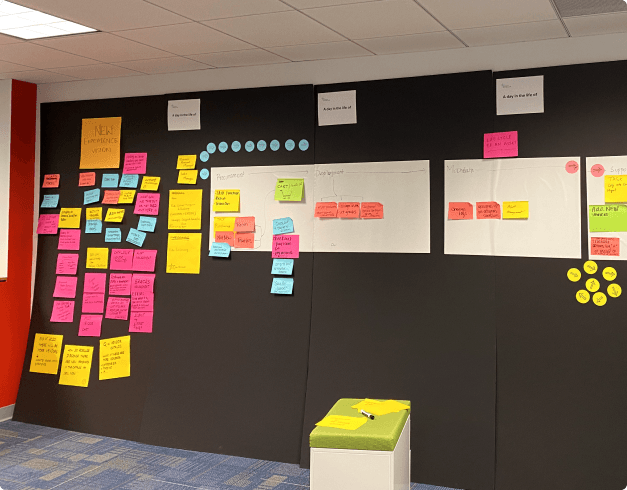 Combine storytelling and visualization to create a holistic view of customer experience, unify fragmented efforts, identify points of friction, and highlight opportunities for improvement. Following a definitive framework that solves the who, what, where, when, how along with lessons learnt provides a good head-start at better understanding the journey as users engage with your company, brand, products, partners, and people.
A Journey Map helps businesses identify and strategize for key moments in the product, experience, or service and powers a better human centered approach to the business problem.

Turn journey map insights into action and experiences
Align CX vision across different product teams.

Fill the gap between CX strategy and results.

Create new products or services for existing or new markets.
6. After the workshop
Our team will work offline on the data provided during the workshop and will generate the following
A detailed visual representation of the customer journey, including all touchpoints, pain points, and opportunities for improvement.

Insights into customer needs, behaviours, and expectations, based on the mapping exercise.

A clear understanding of the customer's decision-making process and the drivers behind it.

Aa prioritized list of customer issues and suggestions on how to fix them.

A customer-centric view of the business and a better understanding of the customer's perspective.
This may take around 6- 10 Days based on the scope of the workshop.
Uncovering the Path to Your Customer's Satisfaction with Customer Journey Mapping.